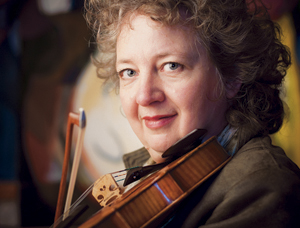 Dornfeld is a revelation, an endlessly inventive player with remarkable fluidity. - Chris Nickson, fRoots Magazine
Fiddler Ruthie Dornfeld's big tone, fierce rhythm and fluid style, along with a wildly eclectic repertoire, have won her popularity among dancers and concert audiences alike. Fluent in a wide range of traditional styles (Irish, American old-time, Scandinavian and Eastern European, for starters), she has performed and taught for over forty years throughout the USA and from the Manaus Operahouse in the Brazilian Amazon to the Sibelius Academy in Helsinki, Finland.
After starting with classical violin as a child in Oregon, Ruthie discovered fiddling at age 18, then hit the road in pursuit of music. In New England, she studied jazz at Berklee College of Music, became a renowned dance fiddler, played in the stringband The Poodles, and founded the transcontinental American Cafe Orchestra with Danish guitarist Morten Alfred Høirup.
Now settled in Seattle, Ruthie keeps busy as a member of 3 Fiddlers, 3 Traditions (together with Danish fiddler Kristian Bugge and Métis fiddler Jamie Fox), the tango band Tangoheart, accompanying country singing duo Margo Murphy and John Roberts, and playing for local dances. Ruthie also plays a 5 string medieval fiddle (vielle), and her compositions for that instrument are featured in the recording "Lay of the Waves," for which she received grants from Artist Trust and the Jack Straw Foundation.